I don't think i could get tired of that ass. Seeing it bent over waiting for a hard cock to pound her make it even better.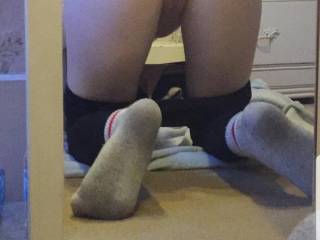 Mmmmmy favorite one position! I'm gonna grab that hot ass with my hands and start to lick gentle and hard rubbing up/down through your ass gap - your pussy and asshole, playing with clit, eat it all your sweet pussy, continue do tongue fuck and fingering your holes. Make your pussy very hungry to feed her deep fulfilled with my big very hard cock. 
I'm gonna drive you crazy and make you very wild.
You gonna groan, moan, roar, scream.
I'd (I'll) kneel and fixing your legs with mine or climb on your sweet hot ass, start teasing your ass and pussy rubbing up/down through your ass gap with dickhead of my big hard cock in my hand, then start to ride and drill you - first tease your holes with my dickhead do rubbing circles then slide shallow dickhead only, then stinging you in/out (pull your hair back, nibble your shoulders and neck), then ramming and drilling deep fulfilled you deep inside. That will gonna be a wild ride. Nope, i do love the way her cunt lips are peaking out though, i'd make her finger her arse as i fuck her cunt and spunk in it, then have her lick my dick clean, i may continue to finger her dirty little shit hole, depends how i feel, but however i feel i'll still use her like the whore she is! U r so pretty and so sexy woman,let me eat that juicy pussy and use its honey with my tongue to lubricate your ass hole, ever had your ass kissed and licked? Would u open ass cheeks for me? I'd absolutely love to lick her all over good God this pic screams hard on I bet she smelled so good when this pic was taken dirty socks dirty thong mmmm yummy absolutely perfect. Damn, I'd love to lick her sexy little asshole as she shoves it onto my face. Yum! I love her fair skin, feet so kissable too mmm.